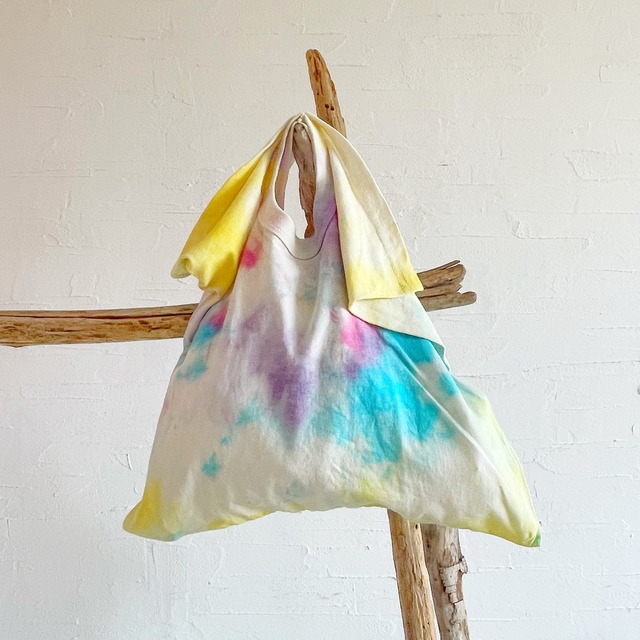 ECO BAG(organic cotton)
SOLD OUT
*Shipping fees are free on this item.
縦43.5cm
横40cm

オーガニックコットンを使用したecobagです。

SOS from TexasのGaryさんのプロダクトを
ひとつひとつ染色しプリントしました。

手染めなので全て1点ものです。

毎日身につけるものだからこそ、身体に、地球にストレスの無いものを選びたい。
地球と人に優しいアイテムです。

オーガニック独特の風合いと他にはない触り心地の良さが、特徴です。





"100% ORGANIC , 100% MADE IN USA"
全ての商品はテキサス州農務省認定の有機農場で作られたオーガニックコットンを使用しています。米国では、その農場が"有機農場"と認定されるまで、3年間以上無農薬農法を続けることが必要とされています。

SOSでは5月中旬に種植えを行い、テキサスの広大な大地と穏やかな天候のもとに育まれ、11月下旬に収穫されます。収穫されたオーガニックコットンは全てノースカロライナ州の認定工場にて紡糸され、
原料である綿花の栽培から製品の縫製まで一貫してアメリカ国内で行う数少ないブランドです。

Height: 16.96inches
Width: 15.6inches


Organic cotton made in the USA.
Printed and dyed one by one.

This product uses only natural hand dyeing.
Natural dyes are used in making this product.

At first the bag will seem a bit stiff but it will get softer as you use it! If you want to soften it up faster, you can wash it individually.

Since this item is for everyday use we have chosen stress-free materials for both our body and for the earth.

This bag's special feature is its organic texture which is comforting to the touch.


100% ORGANIC & 100% MADE IN USA"

All products are made from organic cotton from an organic farm certified by the Ministry of Agriculture of Texas.
In the US, a farm needs to continue pesticide-free farming for over three years in order to be qualified as an "organic farm."

SOS (Save Our Soil) plants seeds in the middle of May and they grow in Texas in a calm climate and are harvested at the end of November. All harvested cotton is then spun at an organic-certified factory in North Carolina.

From cotton cultivation to sewing the bag, this is one of a few brands that makes its products entirely in the US!
Reviews

(1721)

Shipping method / fee

Payment method
¥5,830 tax included
SOLD OUT